Rupert Jee Online!
Welcome to the official Rupert Jee's Hello-Deli Web site! Rupert stays busy running his deli and meeting with his fans, so when you're in New York, don't forget to stop in for lunch and say hi! He'll even sell you a t-shirt or mug to remember him by. Of course, if you can't make it to New York, you can always order his sports drink or memorabilia online here!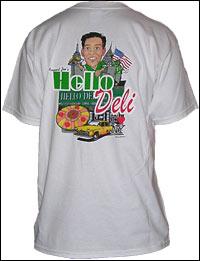 Holiday Gifts! Hello-Deli T-Shirts and Memorabilia > > >

Rupert Jee's exposure on the Late Show with David Letterman has generated a lot of national interest in both Rupert and the Hello-Deli. So in order to answer your frequently asked questions, Rupert has answered a few questions that you can find on the FAQ's page!
Thanks for stopping to visit Rupert Jee on the web and don't forget to stop by when you are in the area! (Deli Location)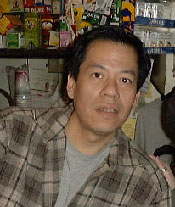 "No, I can't get you on the Late Show with David Letterman, but I can make you a very delicious deli sandwich and your favorite coffee! For more tasty snacks, check out the deli menu!"